Extremely unusual & culturally significant historical sign from a once famous pub in Castlebar Co Mayo, the historic and now sadly closed down Humbert Inn.Please email us directly to enquire about this most unusual item at irishpubemporium@gmail.com.
"Located on the Main Street of Castlebar, The Humbert Inn  excelled in its hospitality to the public for over 200 years. Its name was derived from the fact that the French General Jean Humbert with his second in command General Sarrazin located their headquarters within the building during the United Irishmen rebellion of 1798. Originally until 1912 due to rates purposes, the premises also consisted of what is known today as Paddy Fahey's shop and over the years has been used as hotel, restaurant and public house. In 1798 the site of Paddy Fahey's and the Humbert Inn was known as Geevy's Hotel. A banquet was held there after the 1798 Rising and it was in The Humbert Inn premises, that John Moore was declared first President of Connaught! The public bar was unique in appearance with its interior rough cut stone walls, arches, Liscannor stone floor and a façade that has changed little over the past fifty years.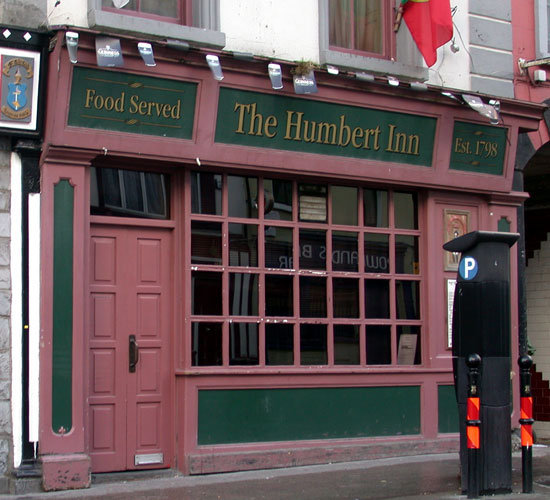 The premises has changed hands many times over the years, more recent owners including Tom Coucil, the Moran family and since 1994 John Connaughton, more popularly known as 'John Humbert'. While memories aplenty abound about The Humbert Inn with many instances of people today stating that they are the third generation of their family to call into The Humbert. 
Its lasting legacy will be an outstanding and legendary venue for all that is musical. The Humbert Inn was long associated with encouraging local musicians and providing the public with a steady stream of talent. Everything from traditional sessions to Industrial Rock has been catered for, everything from one guitar, 6 piece bands to many DJs have enthralled weekly audiences! In many cases their audience trying for a pint, while singing and dancing at the same time. Always a multi-talented bunch, The Humbert regulars!
The most historically famous of these bands will be 'General Humbert' consisting of Steve Dunford (bodhran, bones), John Donegan (mandolin, harmonium), Ruairi Somers (uileann pipes, tin whistles, bagpipes), Shay Kavanagh (guitar, bouzouki) and one Miss Mary Black (vocals, bodhran) from approx 1972 until 1982. Mary Black's brother Mick was working with the then P&T in Castlebar, he along with his brother Shay informed a group of Humbert musicians including, John Hoban and Frank O'Reilly, that he 'had a sister that could sing a bit (brotherly understatement) and would they be interested if she sang with them'. Mary Black may have received her first taste of success with 'General Humbert' in the '70s and recorded her first album in 1982. But, along with playing venues in Dublin, she started out singing in Castlebar with traditional group 'La Salle' which included John Dunford and Fintan Murphy within The Humbert a good ten years before her international success.
Christmas in particular was always memorable in The Humbert, it was a major home coming venue and meeting place. If you were brought up in Castlebar, were of a certain age, then chances were there was one of two places you would have been found on Christmas Eve, The Humbert or Rays!. The Humbert Inn can also boast its very own VIP list among its regulars with two crowned Roses of Tralee Mindy O'Sullivan and Aoibhinn Ni Shulleabhain along with Fair City actress Vicky Burke. Plus any number of quality customers, musicians, fine sportsmen and women, business people and the odd politician.
Fate had decided a different path for The Humbert and further to this an offer to buy the premises by a local developer was accepted. This has resulted in the developer's decision to convert the building into retail outlets and apartments, thereby no longer retaining the premises two hundred year reign in the hospitality trade.Public opinion has stated a desire to at least retain the look of the existing bar, possibly using same as a restaurant, wine bar, part of the Linenhall for exhibitions or even as a Tourist Office However, the general consensus is an overall request that The Humbert Inn remains a public bar while recognising the logic in upper floor apartment conversion. The future of The Humbert has been proposed by the developer, but it is the present planning section of the Town Council who will ultimately decide this historic buildings fate as rumours abound of its possible demolition!
What ever the future holds for The Humbert Inn, its last weekend under the command of General John Connaughton will be a musical filled celebration which John has requested to end quietly on its last closing time on Sunday 3rd September. Which is curiously the same date that Humbert and his men left The Humbert Inn premises in 1798! It will be an emotional time for both punters, staff and owner, an end of an era no matter what the future holds, so it is important that it is understood that the bar will be closing promptly on the last night"
Origins : Co Mayo
Dimensions : 88cm x60.5cm  5kg