Framed copy of advert for the iconic Jim Fitzpatrick portrait of Che Guevera,a revolutionary hero with a surprising amount of Irish roots/connections.
42cm x 35cm.   Dublin
From Patricio Lynch to Che Guevara: The story of the Cuban revolutionary's Irish links
We spoke to Epic, the Irish emigration museum about the Irish lineage behind Che Guevara.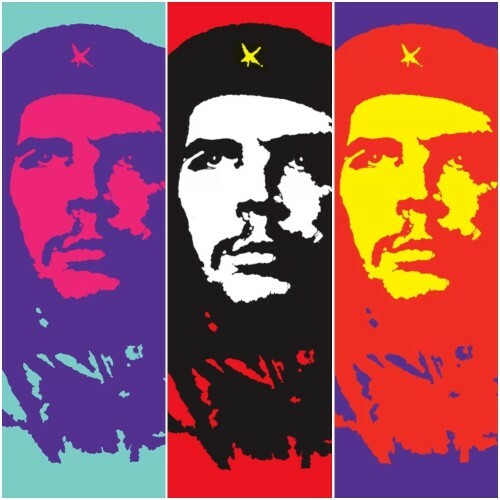 Source: Photojoiner
EARLIER THIS YEAR, the controversial Cuban revolutionary Che Guevara appeared on an Irish stamp to commemorate 100 years since his birth.
As well as unearthing the debate around the divisive legacy of the Argentine who was pivotal in the struggle to overthrow Cuba's dictatorship, it also brought to the fore a discussion of Guevara's Irish links.
Che's father, who's full name is Ernesto Guevara Lynch, was proud of his Irish roots and the story of how his family built a business in Argentina after fleeing Ireland during Cromwell's era.
Years later when Che was Cuba's transport minister, he made an unscheduled stop off in Limerick, and wrote a letter to his father, who he thought would be pleased to hear that he was visiting a country of his ancestry, says Nathan Mannion, curator at Epic, the Irish emigration museum.
There's another, non-familial link that Guevara has with the island of Ireland – the famous, ubiquitous two-tone print of Che was created by an Irish artist Jim Fitzpatrick, which was created using a photo by Cuban photographer Guerrillero Heroico.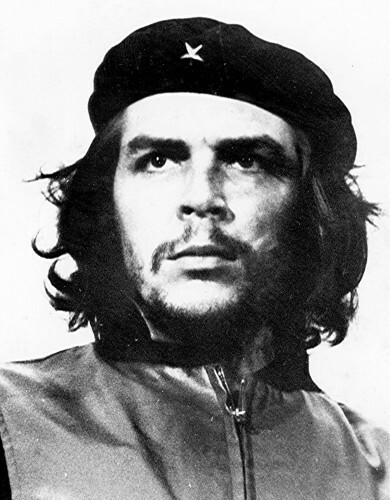 Source: Epic
After the stamp controversy earlier this year, Fitzpatrick told TheJournal.ie that he was used to the controversy around Guevara, dismissing the criticism and accusations levelled against him as "black propaganda".
He added that he was "immensely proud" to have his artwork of the Irish-descendant revolutionary on an official Irish stamp.
Irish roots
Patrick Lynch was born and raised in 1715 to parents from two of the main tribes of Galway. But after defeats at the hands of Cromwell's forces, and later those of William of Orange, he fled to Bilbao in the Basque region of northern Spain, and then to Rio de la Plata, which would later become Argentina.
"He became a prominent figure in the Spanish government, a leading civil servant," Nathan told TheJournal.ie.
After travelling to Buenos Aires in 1749 to work as a captain in the Milicias, he married a wealthy heiress. The valuable lands he gathered over the years were then passed on to his son, who followed into his father's line of business.
In the century that followed, one of Patrick Lynch's descendants would set up a shipping company, fight in the Argentine army and Chilean navy, write novels and short stories, paint and found a movement for rural libraries in Argentina.
It's hard not to see how that family history didn't impact on young Che, who was athletic and political, as well as passionate about poetry.
But it was while Che Guevara toured South America during his 20s that the spark of political activism was lit – it was during this time that he also penned a book of his own – The Motorcycle Diaries, (which decades later was turned into a film of the same name).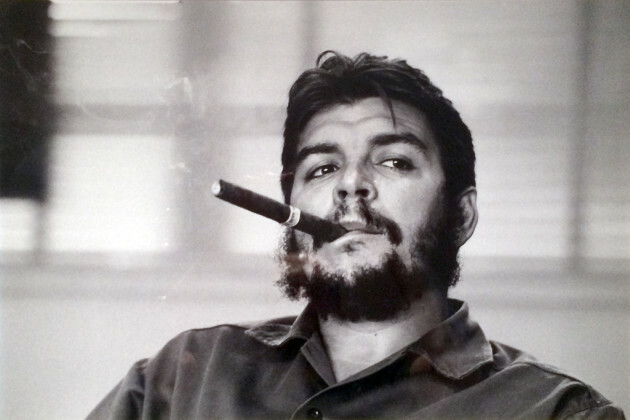 Source: Epic
Referring to Che's "restless" nature, his father declared "the first thing to note is that in my son's veins flowed the blood of the Irish rebels".
"Half a million, to a million of the Argentinian population claim to be of Irish descent. But there are problems with identifying people of Irish descent, because when the Irish arrived during that era, they were recorded as 'British', so it's a little bit problematic identifying who was Irish and who wasn't.
"So the ancestry of Guevara is quite exceptional – as they emigrated to Argentina long before most Irish people did, during the latter half of the 19th century, coming up to the Great Famine."
Jim Fitzpatrick (born James Fitzpatrick in 1944) is an Irish artist. He is best known for elaborately detailed work inspired by the Irish Celtic artistictradition. However, his most famous single piece is rather different in style, his iconic two-tone portrait of Che Guevara created in 1968, based on a photo by Alberto Korda.
Jim Fitzpatrick was born in December 1944 to James and Elizabeth Fitzpatrick (née O'Connor). His parents had married in the north Dublin suburb of Cabra in June 1943. During a period of childhood sickness, Fitzpatrick read and drew in bed, as well as his mother and great-aunt telling him stories of the Tuatha Dé Danann, Cú Chulainn and Fionn MacCumhaill. He was educated at the Franciscan College Gormanston, County Meath, just north of Dublin. His father was a photo-journalist and he is a grandson of political cartoonist Thomas Fitzpatrick.
Fitzpatrick's earliest work was the graphic portrait of Che Guevara, which was based on the photograph by Alberto Korda, entitled Guerrillero Heroico, was taken on 5 March 1960. Fitzpatrick met Guevara 5 years earlier in Kilkee during Guevara's visit to trace his Irish ancestry. Having initially tried to distribute the poster himself, Fitzpatrick chose to remove copyright from the image so that is could be used freely by left wing groups, stating that "I literally wanted it to breed like rabbits. I wanted it to spread."
In 1978, he wrote and illustrated a book called The Book of Conquests, the retelling of a cycle of Irish myths, the Lebor Gabála Érenn. The book is a retelling of the legends of the coming of the Tuatha dé Dannan to Ireland and their fight with the Fir Bolg. The illustrations include intricate Celtic scroll work and knotwork, for which Fitzpatrick has become known. A second book, The Silver Arm, is based on the deeds of Nuada of the Silver Arm and Lugh in their fight with the Formor.
Fitzpatrick has produced artwork for bands such as Thin Lizzy including their Jailbreak album in 1976, for Sinéad O'Connor's 2000 album Faith and Courage, for The Darkness' 2003 single "Christmas Time (Don't Let the Bells End)",Norwegian black metal band Darkthrone's 2013 album cover The Underground Resistance, and took the photograph for the cover of Louise Patricia Crane's 2020 album Deep Blue.He was commissioned by CityJet in 2007 to create images reflecting Ireland's culture, mythology, history and landscapes.
In 2011, Fitzpatrick announced that he intended to copyright the iconic red and black Che Guevara graphic. He cited "crass commercial" use of the image for his decision and planned to hand over the copyright and all rights, in perpetuity, to the family of Guevara in Cuba. The image remains available for free through Fitzpatrick's website for non-commercial usage. An Post released a stamp featuring Fitzpatrick's image of Guevara in 2017 to mark 50 years since its publication.
Meeting Guevara in Ireland
According to Fitzpatrick, in 1963 while a teenage student at Gormanston College he worked a summer job at the Marine Hotel pub in Kilkee, the town of his mother's birth. One morning Che Guevara walked in with two Cubans and ordered an Irish whiskey. Fitzpatrick immediately recognized him because of his interest in the Cuban Revolution. Knowing about the Irish diaspora and history in Argentina, Fitzpatrick asked Che vaguely about his roots. Che told Fitzpatrick that his grandmother was Irish and that his great-grandmother, Isabel, was from Galway, with other family being from Cork.
"I am in this green Ireland of your ancestors. When they found out, the television station came to ask me about the Lynch genealogy, but in case they were horse thieves or something like that, I didn't say much."
— Che Guevara, jokingly in a letter to his fathe
Guevara's father also bore the Irish surname "Lynch." Fitzpatrick describes Che as "curious" about Ireland "from a revolutionary point of view" and remarks that Che proclaimed his "great admiration" for the fact that, in his view, Ireland was the first country to "shake off the shackles of the British Empire". Apparently Che was stranded on an overnight flight from Moscow to Cuba, and had touched down at Shannon Airport, where the Soviet airline Aeroflot had a refueling base. Unable to depart because of thick fog, Che and his accompanying Cubans took the day off for an "unofficial" visit. It was this experience, according to Fitzpatrick, that gave him the impetus to follow the future actions of Che, including his ill-fated mission to Bolivia.
In December 2008, Jim Fitzpatrick, along with local historian Anne Holliday and the Shannon Development, announced plans to commemorate Guevara's visit to Ireland, and specifically his time spent in Limerick. Early plans are focused on an exhibition of Guevara's visit at the City Museum, followed by the creation of a "permanent mark" symbolizing his time spent at Hanratty Hotel's – White House pub in Shannonside. Fitzpatrick defended the move by remarking "we want to commemorate the fact Che Guevara spent some very important hours of his life here … this probably was Che's last hurrah."