40cm x 34cm  Limerick
The Distillery in Chapelizod, near Dublin's Phoenix Park, was converted from an old mill in 1878 by the Distillers' Company, Ltd., of Scotland, who later went on to become the biggest player in Scotch Whisky owning brands such as Haig, Dewar's, and Buchanan's, as well as countless Malt and Grain Distilleries in Scotland, until the group was taken over by Guinness in the 1980s.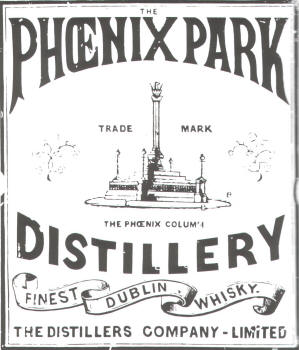 Old Advertisement for Phoenix Park Distillery
It seemed profitable to own an Irish Distillery in those days: Dublin Whiskey, being considered the finest in the world, was priced 25 per cent higher than comparable Scotch Whisky.
The production of Phoenix Park Distillery, 350,000 gallons (1.5 Million Litres) per year, was sold to England and its colonies, as well as used for blending with DCL's own Scottish Malt and Grain Whiskies.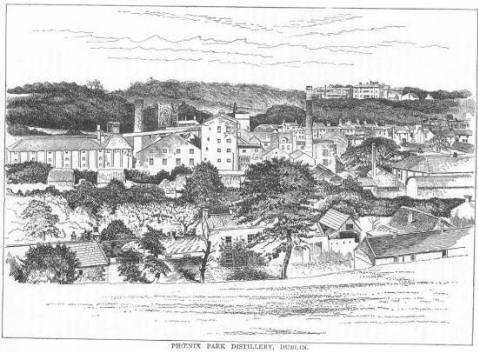 DCL's Phoenix Park Distillery in 1886
However, Phoenix Park Distillery had only a short life span. Production ceased in 1921, and DCL abandoned the plant a few years later, due to the politically and commercially difficult situation in Ireland at the time.
Today, most buildings have survived, including the mill lade, once holding the largest water wheel in the UK. Others have been converted into apartment houses.