Fantastic framed photo of the famous Munster Haka performed by the New Zealand contingent wearing red- Doug Howlett,Lifemi Mafi,Jeremy Manning & Rua Tipoki.
Limerick  45cm x60cm
WHAT DO YOU remember most about this game? 12 years have passed now but what sticks out is how low-key the build-up was until the moment of the famous response to the haka from Munster's New Zealand contingent.
Low-key in the sense that not a whole lot was expected from the game itself. The occasion was always going to be a bit of crack with all the players from the epic day in '78 being wheeled out to give interviews about the time they slayed the giant from the land of the long white cloud.
But after all the clips and interviews with Seamus Dennison and Tony Ward were over, was anyone seriously expecting a proper contest from the game?
Sure, it was an All Blacks 'B' side (although at the time, their second-string consisted of Cory Jane, Liam Messam, Kieran Read and Hosea Gear) but it was also a weakened Munster team, with Denis Leamy the only first choice forward available due to international commitments.
The state of the two line-ups meant that two of rugby's most well-worn clichés were put head-to-head: 'There is no such thing as an All Blacks B team' vs 'you can never count out Munster'.
Given what followed, you would probably say it was a push.
The first sense that the game might channel the spirit of '78 rather than just pay tribute to it was obviously during the haka. This would have been the perfect sporting moment if you could have erased Jeremy Manning's Village People moustache out of there.
The Thomond Park crowd rarely needs any encouragement but the ground was heaving after that introduction. Then the game started and the untested members of the Munster pack were the most tigerish.
James Coughlan was basically a 28-year-old club player at the time but his ferocious display of carrying earned him a proper professional career. Donnacha Ryan exploded out of POC and DOC's shadow with an commanding performance and Munster were clinical early on.
It helped that out-half Paul Warwick was in the form of his life. These monster drop goals were a regular sight during that 2008-09 season.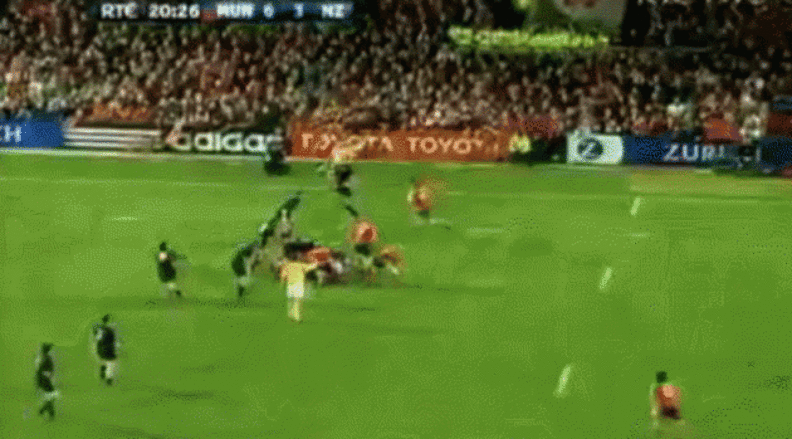 The All Blacks hit back with a try from Stephen 'Beaver' Donald but right on half time, Munster took a six point lead after this Barry Murphy try. This was one of those classic moments during an upset when you turn to a mate, nod vigorously and say 'It's on now'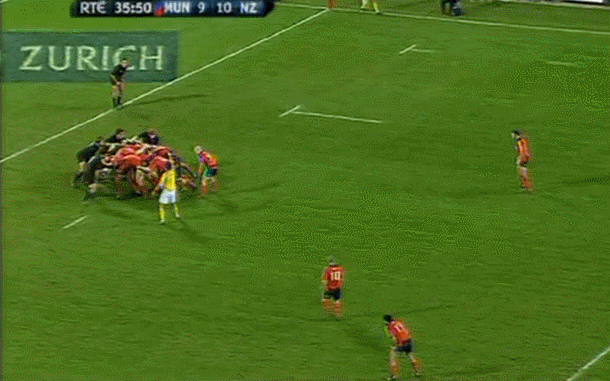 Half time came a moment later and with it, this nice gesture from Cory Jane. For most Irish fans, this was the first time they had seen Jane in action and this moment, coupled with his strong attacking performance marked him as one of the good guys.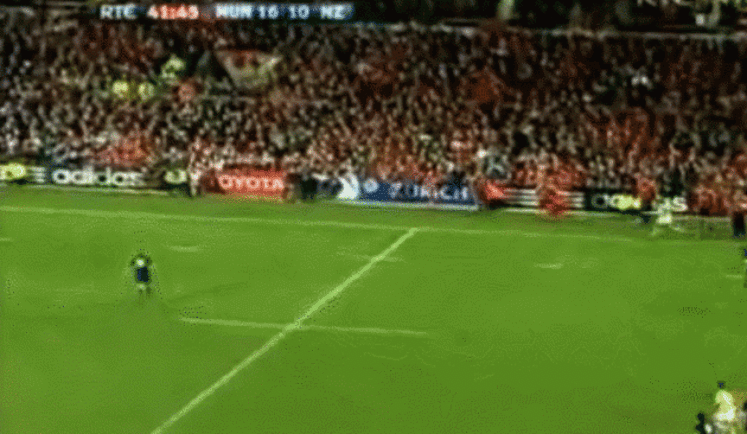 I can't speak for anyone else, but the only thing I remember about the second half is Joe Rokocoko's try – probably because Munster didn't score in the second 40. Munster held out for 76 minutes until Rokocoko got the ball directly against his old teammate Doug Howlett.
Should Howlett have made the tackle? It is hard to stop Smokin' Joe when he plants that foot.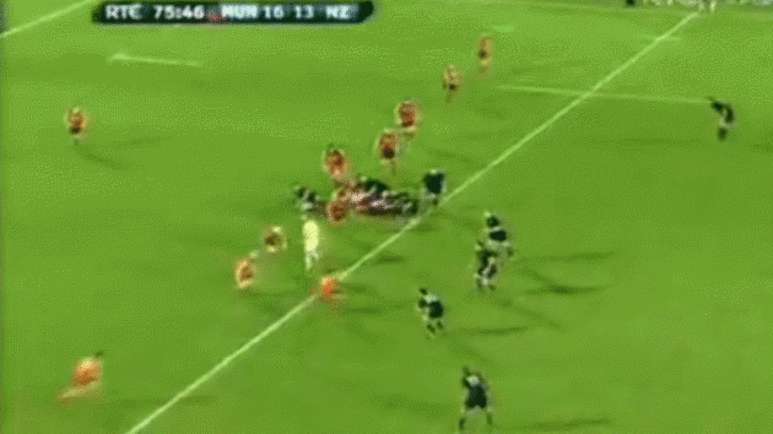 And that was it. There was no heroic win. Unknown players like prop Timmy Ryan didn't get to join the heroes of '78 as regulars on the after-dinner speech circuit.
What made this such a memorable occasion was how unexpected it was. It was played on a Tuesday, sandwiched between two other November Tests and although the pageantry was always going to be good fun, the fact that it exploded into life in the way it did makes it one of the most exciting games in the history of Irish rugby.
It's been six years now, but the memory of 'It's on' is one that will never go away.
Munster: Howlett; B Murphy, Tipoki, Mafi, Dowling; Warwick, Stringer; Pucciariello, Sheahan, Ryan; M O'Driscoll (capt), Ryan; Coughlan, Ronan, Leamy.
Replacements: Buckley for Ryan 40, Fogarty for Sheahan 63, Holland for Leamy 24, Manning for Tipoki 52.
Not used: Melbourne, O'Sullivan, Prendergast
New Zealand: Jane; H Gear, Tuitavake, Toeava, Rokocoko; Donald, Weepu (capt); Mackintosh, Flynn, Franks, Filipo, Eaton, Thomson, Waldrom, Messam.
Replacements: Elliott for Flynn 65, Afoa for Franks 70, B Thorn for Filipo 71, Read for Thomson 60, Mathewson for Weepu 63, Muliaina for Tuitavake 71.
Not used: Kahui,